5 Recipes for a cranberry facial pack
On today's episode the beauty advisor shares health and beauty tips about this very popular food we eat this time of year, the cranberry.
Like all yummy fruits, cranberries also have a lot of beauty benefits. Cranberries have a high level of antioxidants and they help to detoxify skin. Along with having anti-inflammatory properties that's good for sensitive skin, they have vitamin A and C content too. Cranberries have anti-ageing benefits and fight off free radicals to prevent premature ageing. Also, they brighten up the skin. They also fight off microbes and cause lesser breakouts. Cranberries also aid in moisture retention and in improving skin's elasticity and suppleness. So, if you want to keep pimples and wrinkles at bay, try these homemade cranberry face packs. You can use cranberries in the puree form by blending them into a smooth paste. You can also boil to soften them up and then mash them into a smooth paste.
There's nothing that honey does not work along with. Even with cranberries, it makes a great combination. Make a puree out a few cranberries and add in 1 or 2 tbsp to the puree. Mix well and apply on the face and neck, rinse off after 20 minutes.
Cranberry, Oatmeal and Yogurt Face Pack:
Another wonderful skin beneficial ingredient, yogurt will smooth out your skin. In cranberry puree, add in a few tbsp of yogurt, mix well. Since this mixture would be quite runny, you can add in oatmeal powder to make a thick paste. The oatmeal powder gently exfoliates dead skin cells while the cranberries and yogurt in the pack brighten and soften the skin.
Cranberry and Red Grapes Face Pack:
This is a strong anti-oxidant face pack. Cranberries and red grapes have high concentrations of antioxidants and when you use them in a face pack together, you would not have to worry about premature ageing at all. Make a puree out of a few cranberries and red grapes (include the seeds, take care they are not abrasive). Mix both the purees together and apply on face and neck. Use this pack regularly to get the anti-ageing benefits.
Cranberry and Olive Oil Face Pack:
Blend cranberries and yogurt in a blender to make a smooth paste. Add in honey and olive oil. Apply on the face and wash off after 20 minutes. Honey acts as a natural moisturizer and olive oil has vitamin E and antioxidants. Yogurt helps get rid of dullness and hydrates the skin.
Cranberry and Sugar Face Scrub:
This is a homemade scrub recipe . To make this scrub, blend a few cranberries into a smooth paste. You can add in one tbsp of jojoba/almond/coconut oil to this paste. Add in oatmeal powder and sugar. Apply in a circular motion over damp skin. Wash off after the exfoliating process.
Dreaming of these Holiday beauty gifts
Holiday gift guides are the perfect solutions the usual last minute hunt for gift ideas during the Holidays. So this year I want to share my top Holiday Gifts for this year.
We also talk about these beautiful and unique beauty gifts that any women would love to have. The price of these glamorous gifts range from being very expensive to quite inexpensive. Check them out and let us that you want for Christmas!
The perfect personal-care gift for any occasion or time of year. This basket features all of our super popular
JamaicaMeCrazy
scented products. Each is nestled in black krinkle-cut paper and displayed in a sturdy two-handle black basket. This is a $70.00 value. for only $59
-
One (1) 9.25 ounce bottle of Luxurious Body Wash with Shea Butter.
-
One (1) 9.25 ounce bottle of Super Moisturizing body lotion.
-
One (1) 2 ounce pump jar of
Antiperspirant/Deodorant
.
Kiehl's Limited Edition Creme de Corps Whipped Body Butte
r
Every season, Kiehl's asks a different artist to outfit the packaging of its classic body creams for holiday. This year, the brand tapped New York designers Jeffrey Costello and Robert Tagliapietra (of fashion label, Costello Tagliapietra) to create this custom design featuring shoppers in lumberjack-chic outfits and woodland animals. I chose the Limited Edition Creme de Corps Whipped Body Butter ($38), because it's a heavy cream that really soothes dry skin — especially on ankles and knees. The milk-and-honey scent makes me want to snuggle under a cashmere blanket scarf with a cup of hot tea.
Rouge Louboutin Lip Colour Collection
I am known throughout the office for my lipstick addiction. I'd be enthralled if I were enabled even further with this indulgent trio from Christian Louboutin ($270). Though the shades are all the same (the brand's signature red hue), each tube houses a different formula — matte, satin, and sheer — on a silver chain. I'd wear them all around my neck as a conversation starter . . . and for easy touch ups.
Tom Ford Private Blend Collection
I am borderline obsessed with Tom Ford – we both hail from Austin, TX, his designs are what my dreams are made of, and his fragrance is enough to get me hot and bothered. As a woman who likes to change up my fragrances, I can't think of a better gift that the Tom Ford Private Blend Collection ($345). Yeah, it's pricey, but it includes some of Tom's most beautiful fragrances, including Neroli Portofino. Plus, the packaging is like eye candy. I can't wait to display these on my vanity!
Karin Herzog The 7 Creams of the Week
I'm dubbing 2015 as the year of the skin care treatment. There was a resurgence of the sheet masks and dermatologist-grade peels, and multimasking took over Instagram. This Karin Herzog The 7 Creams of the Week ($100) coffret includes everything I need to revive my post-holiday skin. The exfoliating AHA treatment and the soothing rose are two of my favorites in this comprehensive set. I also love that it comes with an application brush, so that every mask goes on evenly and nothing gets contaminated with hand germs.
Oriental Dream scent
($15) has a sweet, spicy kick to amp up my pre-party prep. The beautiful gold-flecked bottle just adds to its festive flare. Ingredients like creamy cocoa and almond milk will give my skin an extra dose of hydration.
Urban Decay junkie
's ultimate fantasy. I'm actually imagining myself rolling around in a pile of shadows a la Scrooge McDuck, laughing maniacally as I apply them. There are a lot of things I would do to guarantee that I saw this under the tree, and I'm not proud of any of them, but that's how desperately I want this.
Rodin Holiday Kit
($500) is for the beauty connoisseur in your life, and includes all of her best products: Hand and Body Cream, Body Oil, Perfume, Face Oil, and Hair Oil. Everything is packaged up in a gorgeous, custom-made acrylic box.
Swarovski crystal-studded cap
($26). I've been a fan of this wand for years because of the glossy black finish and its ability to actually make me look like I'm wearing falsies.
Guerlain Météorites Perle des Neiges
Guerlain's pretty powder spheres are totally iconic, but the line's
holiday spin on the product
($80) is worthy of becoming an instant cult classic. It's made of luminescent pigments that you apply with a loose powder brush, just like the original, but there are tiny stars (!!!) scattered amongst the classic pearls. I doubt I could even use this, it's so pretty — I'd just sit and sigh dreamily as I stared into the gorgeous jar.
—
Charlotte Tilbury Book of Makeup Magic
Since the launch in the US last October, I've been a devoted Charlotte Tilbury fan. This is one brand I will happily spend my hard-earned dinero on! From the color payoff to the fun names, every product is a joy to use. Plus, her Magic Cream? I want to bathe in it. That's why The Book of Makeup Magic($200) is on my list — it includes travel-sized and full-sized samplings of CT's best products: a mini K.I.S.S.I.N.G. lipstick in Penelope Pink (a stunning beige that's great for emulating a Kim K. pout), Multi-Miracle Glow Balm, and a sample of her unreleased Magic Night Cream, which I can't wait to test out.
Smith Cosmetics Smithfolio Makeup Brush Case
If you're not familiar with Smith brushes, it's time to get acquainted. They're one-of-a-kind luxe makeup tools are durable — they aren't hollowed out — and soft (most of the brushes are not synthetic.) They're unique in that they have an antibacterial coating on each brush handle, and double-crimped copper caps, so you won't worry about rust; they're extra beautiful to look at, too, but I digress. I am obsessed with the Smithfolio ($62): a leather makeup brush case with gold hardware. The coolest part about this case is that you can add additional plates and pockets to your Smithfolio, depending on your needs. Then, simply remove them from the case, lay them on your vanity, sink, table, or wherever you do your makeup, use them, then snap back into place. No fuss, no mess, no clutter.
While I'm not typically impressed by designer labels, the signature packaging on the Tory Burch Lip Color Set ($72) is hard to pass up for a lipstick-lover like me. The trio comes with three shades: Pas du Tout (a sheer, pink nude), Smack Dab (a tomato red), and Ramble On Rose (a pale rose). Honestly, I might never swipe on the shades. The geometric casing is going to be the star of my vanity makeup display
E.L.F 11 pc. Brush Set

There's nothing like receiving a fresh, new set of makeup brushes (when was the last time you washed yours, anyway?). This is a full set for eyes, lips, and face will only cost you $20, making it a budget-friendly secret Santa gift. And the reciever will be forever thankful for the Kabuki Face Brush alone.
E.L.F 11 pc. Brush Set with Kabuki Brush ($20)
Help your cold-climate-based BFF battle the Winter blues (and all it's elements . . . hello, dryness) with this hydrating set. The offering features six intensely moisturizing skin care products along with a mascara and lip gloss as added pick-me-ups.
Boots No7 Ultimate Collection ($45)
Philosophy Four-Piece Snow Angel Set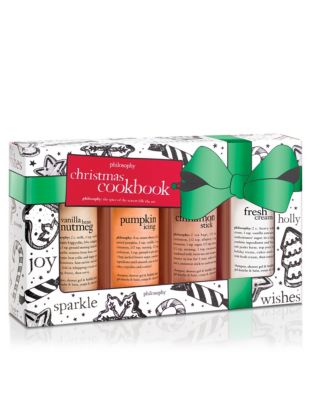 If you're headed to a holiday party, then we have your hostess gift. This shower gel, body lotion, body polish, and spritz truly capture the crisp scent of fresh winter snow. Plus, we love miracle-minded messaging!
Philosophy Four-Piece Snow Angel Set ($32)
This universally flattering eyeshadow palette offers 12 shadows (nine matte ones and three shimmer styles) that glide smoothly onto your lids and feel like velvet. Use them to create a wash-of-color day look and smoky eye for nighttime. Those travelling for the holidays will appreciate its portability.
Tarte Tartelette 2 In Bloom Amazonian Clay Palette ($45)
For the Blowout Addict
The Drybar Peace on Earth Good Hair to All Kit ($199) comes with everything your hair-obsessed friend needs to perfect the art of the at-home blowout. If she's constantly skipping out on girls' night out because her hair isn't done, this gift leaves her with no more excuses.
For the Disney-Lover
For the certified Disney freak, give this limited-edition Disney Collection compact mirror ($32). Each compact features a Disney princess and is an awesome addition to her collection stash. sehporia
If she can't resist a good sheet-mask selfie, then she'll love this Peach and Lily Korean mask set ($20). The set comes with five masks, all of which include snail mucin to fight signs of aging and ginseng to maintain her youthful glow. Not only will your friend's skin be on point, but she can also unwind and let the magic happen without leaving home.
There's no such thing as too much nail polish for the girl who changes lacquer like she changes clothes. She'll treasure this 24-piece Ciaté London Mini Mani Month polish set ($59) featuring a range of shades (from white to glittery ruby), a nail treatment, and a file. The cutest part is that the kit is built like an Advent calendar, with each polish hidden behind a window to reveal a new lacquer as she counts down to the holidays.
Your DIY-everything pal will love the Handmade Beauty Box Pink Salt Scrub Set ($34). It comes with all the goodies she needs to make a luxurious homemade body scrub, like coconut oil and pink Himalayan sea salt. There are even tiny jars so she can share the love.
If your girl is known for constantly changing up her style and sprucing up her hair with trendy colors, then drop a few of these Kevin Murphy Color Bug Hair Shadows ($20) in her holiday gift bag. The easy-to-use hair chalk allows her to experiment with color without a permanent commitment. The pods come in a wide range of fun shades, including neon yellow, pink, orange, and even a shimmery gold so she can really show off her holiday spirit.